June.04.18
5 of the Most Awe-Inspiring Music Festivals in Nashville
What's your favorite part about living in Nashville? If it's not the hot chicken, it must be the music. Concert lovers can find a show any night of the week in Music City, and there's always a chance that the singer on the stage is a superstar in the making.
Those intimate concerts are fun for weeknight fun and low-key Saturday nights, but sometimes you want to see the big acts on the biggest stage. Well, no city throws a music festival like Music City. See below for a list of the most talked about music festivals in Nashville!
CMA Music Festival When: June 7- 10, 2018
Free music festival, anyone? We should clarify; CMA is mostly free, but you will have to shell out some cash if you want to see the big name acts perform every night at Nissan Stadium. However, there are a lot of ways to enjoy CMA Fest without dropping $200+ on seats in the stadium.
Most of the festival takes place in Riverfront Park in downtown Nashville. The city also shuts down part of Broadway for CMA Fest events. In fact, Broadway is the place to be if you're trying to enjoy CMA Fest without emptying your bank account; the sidewalks are filled with vendors giving out free stuff, and the bars are the perfect place to escape the summer heat every few hours.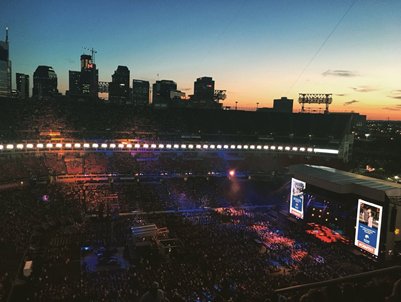 Americana Music Festival in Nashville When: September 11 - 16, 2018
The numbers behind the Americana Music Festival are staggering. The festival features over 500 live performances in 60 of the top music venues in Nashville. Americana is part music festival, part conference, which means most of the industry's movers and shakers will be in town.
This six-day festival is perfect for anyone who loves country, bluegrass, folk, roots and blues music. You'll have to buy a festival wristband if you want to see the nightly shows, but even that doesn't guarantee entry into the venues. Some of the venues are small, and they fill up fast, so you have to be on your A-game if you want to catch every act.
Let Freedom Sing! Music Festival When: July 4, 2018
In addition to being one of the most exciting music festivals in Nashville, Let Freedom Sing! is also the one of the nation's largest fireworks shows. Oh, and it's totally free!
The 2017 Let Freedom Sing! Music Festival featured performances by Chris Young, Jonny P and The Sisterhood, to name a few. The concerts go all day long, and the night wraps up with a massive fireworks display. This isn't just any fireworks show though; it's paired with choreographed music from the Nashville Symphony!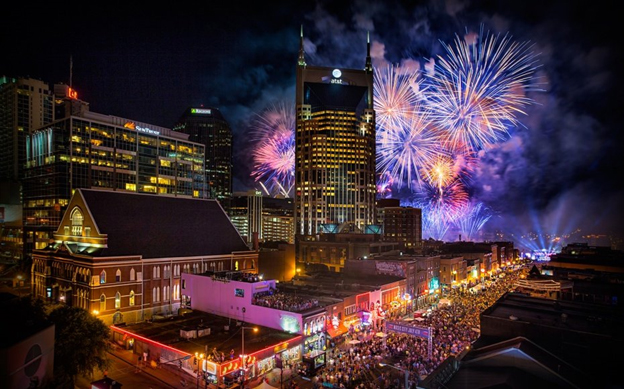 Jefferson Street Jazz & Blues Festival When: June 15 & 16
This might not be one of the best known music festivals in Nashville, but it's certainly one of the most historic. From 1940 to 1960, Jefferson Street was a thriving hub for American jazz and blues acts. Everyone from Fats Domino to Jimmy Hendrix played there, and some even lived there.
The scene faded away over time, but it was revitalized in 1994 with the first edition of the Jefferson Street Jazz and Blues Festival. This is the largest publically-funded annual music festival in Middle Tennessee, and it's basically a day-long block party featuring food trucks, local businesses, and some of the nation's top jazz and blues performers.
Music City Midnight: New Years in Nashville When: December 31, 2018
Finally, we have a music festival that you can enjoy this year! It's on the last day of the year, but it still counts. Music City Midnight is 100% free to attend, which means you can enjoy Keith Urban, Marin Morris, Cheap Trick and more without paying a dime!
One of the coolest things about Music City Midnight is that it takes place in front of the beautiful State Capitol Building. Of course, the night also ends with a gigantic fireworks display at midnight. New York has the ball drop, but Nashville does its own thing with a massive red music note that descends 145-feet during the countdown to the new year.
Save these dates on your calendar, because Nashville is best enjoyed with music in the background. If you're thinking of making your home in Music City, we'd love to show you around Vertis Green Hills — a brand new luxury apartment community in town. Feel free to go online and schedule your tour!